Except it's not happening here. Hop on over to meet my newest neighbor, Rudri, from Being Rudri to read my post on sleep. Or rather, not sleeping. Well, there's more, but I guess you'll just have to click over to find out.
I'm so honored to be Rudri's guest as I've long admired her remarkable insights and talent. I hope you will explore her site while you're there. It's a place where the words haunt you long after you leave it.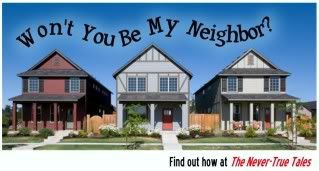 And lastly, thank you Amy of The Never-True Tales for creating this wonderful blog-hopping series that open our eyes to new and exciting bloggers out there! Hope to meet more of them in the neighborhood soon.